Dr. Narine Tashjian, a dentist in Los Angeles, has been the associate dentist in our practice since 1989. She is the specialist in Cosmetic Dentistry – Porcelain Crowns, Veneers, White Bonded Fillings, etc. Dr. Tashjian, a dentist in Los Angeles, also enjoys working on kids and young adults. Her gentle, sensitive and nurturing style puts even the most anxious dental patient at ease!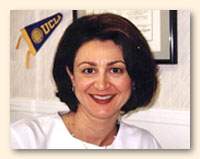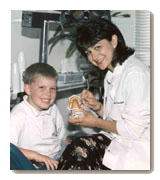 "I deeply care about my patients and empathize with their fear. I want their dental experience in our office to be as positive and as comfortable as possible."
Dr. Narine Tashjian, a dentist in Los Angeles, graduated from UCLA School of Dentistry in 1986. Prior to Dental School, she obtained her Bachelor of Arts degree in 1982 from USC. Dr.Tashjian worked as an associate as a dentist in Los Angeles and Pasadena areas, as well as volunteering at the Los Angeles Free Dental Clinic. She joined our office in 1989, and has become an integral part of our dental team.
Dr. Tashjian is a proud mother of two boys, Michael and Steven. Together with her husband, their two sons and their pets; Moluccan Cockatoo named Fabio, and German Shepherd dog named Chloe, she lives in the Glendale area.
Dr. Tashjian is an avid tennis player and enjoys playing the piano as well. Her hobbies include interior decorating and gardening. She also loves classical music and the ballet.