Implant Dentistry: How to Find The Best Implant Dentist
---
If you are in need of dental implants, you want to find the best implant dentist possible. Finding a dentist with the right certifications should be at the top of your search list. Also, a dentist with experience in dental implant procedures is extremely important.
Starting Your Search for The Best Implant Dentist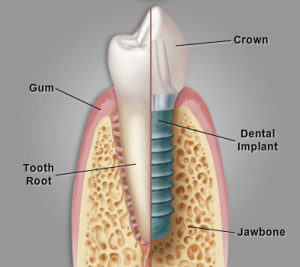 Begin by searching for dentists in your area that are certified as either DDS or DMD. After the general dental practitioner qualifications have been met, you'll want to continue your search with some of these questions and considerations.
Special Training:

Does the dentist that you are considering have any special training in the area of dental implants? This could include experience with advanced technologies, periodontal training or certification, in addition to other qualifications. You may be able to find this information online, or you can make a call to their office to inquire.

Personal Referrals:

Do you know anyone who has used the dentist you are considering for a dental implant procedure? Personal referrals are one of the most effective ways to find the best implant dentist.

In addition to special training, it is important to consider how much experience your dentist has in practical placements of dental implants. How many times have they placed implants? How long have they been working with implants.

Before and After Photos:

Ask the dentists that you are considering if they have any before and after photos they can show you. Getting a visual of a dentist's actual work with dental implants is a great way to decide whether you want to schedule a consultation to have your procedure done with them.
Further Considerations for Finding The Best Implant Dentist
Here are a few more things that you may want to consider as you narrow down your search for a dentist to perform your dental implant procedure:
Continuing Education:

You may want to ask if your dentist has taken any continuing education classes in the area of implant dentistry in the past year or two. If they have, you can be assured that your dentist is up-to-date on the very latest technology and procedures when they perform dental implant procedures.

Comprehensive Examination:

Does your dentist perform a consultation and examination prior to your implant procedure that is thorough and covers all of the important information that is needed? It's a good idea to know that you and your chosen dentist are on the same page before going in to have your implants placed.
Once you have narrowed down your search for the best implant dentist, follow through with these questions. You will be ready to schedule a consultation and begin the process of getting dental implants. You can get one step closer to having a successful procedure and recovery.
---
Dr. Arthur A. Kezian DDS 443 N. Larchmont Blvd Los Angeles, CA 90004 (323) 467-2777