Dental Implants with a Los Angeles Dentist
By Arthur Kezian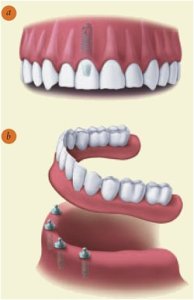 A dental implant is the replacement of the decayed root using an artificial component, a service mainly used by people with missing teeth. Dr Kezian is an expert in carrying out implants – which eventually appear like the actual tooth root. Most implants are performed as outpatient surgeries with emphasis on treatment planning, case choices and restorative approaches.
Dental implants are tiny titanium posts which are inserted to the jawbone to replace missing teeth. It involves a surgical procedure to ensure that artificial posts are stable in the gums. This technique ensures that the patient's facial structure is preserved by preventing bone deterioration in place of missing teeth.
Surgical Instructions for Dental Implants
Dr Kezian and staff have a lot of experience in handling implants for needy patients. They have predefined steps which prescribe what must be done during surgery
Careful planning has to be done before commencing surgery. It involves assessment of the root canal to determine the size of implants. Requires computerized tomography scans.
Before carrying out dental implants, the bone is prepared using drill precisions at regulated speed then the surgery can then be performed.
After the surgery, the operated area is covered with a gauze pad for about one hour then removed.
Patients are advised not to rinse their mouths vigorously or touch the injured area to avoid causing blood clots.
Patients are given medications to take in case there's discomfort, taken mostly after the analgesic effect is over.
Use of ice packs on the surgery facial site is recommended to reduce or prevent swelling.
Most dentists use two common surgical procedures to respond to patient implant needs. Procedures are carried out in teamwork with the main doctor carrying out the actual implant and decayed tooth extraction while the rest of the team provides specialized care and prosthesis.
The first phase is the period between three to six months of the surgery. The implants require time to bond with the jawbone hence patients are advised to put on temporary dentures and be on soft diet to avoid strain of the jaw.
The second part of surgical procedure is after bonding of the implant which entails uncovering the implants to insert small posts to act as anchors for artificial teeth.
Patients seeking the services of Dr Kezian may not have to go through the two sets of stages but require a minimum of six weeks to heal then artificial teeth can then be placed.
Advantages of Dental Implants
The dental implant dentist plays a key role in improving patient's appearance. Implants are designed to merge with the bones hence becoming permanent.
Surgical dental implants make an individual speak with no worry of slipping teeth, enhancing speech.
Dental implants become part of the patient which eliminates the discomfort of removing dentures.
Implants function like the real teeth. Individuals who have undergone the surgery have no difficulty in chewing food.
Your smile is free and simple. Implants increase an individual's self esteem and improve how they feel.
Dental implants are long lasting and more convenient – They do not have to be removed at any given time like dentures.
Dr Kezian and staff are happy to help those in need of safe dental implants who have healthy gums and enough bone to hold an implant. Those who smoke heavily and have chronic disorders should have x-rays taken to determine whether they are fit for implants. However, all patients with dental disorders are advised to stay committed to good oral hygiene by having frequent check-ups done by a qualified dental implant dentist.
---
Dr. Arthur A. Kezian DDS – 443 N. Larchmont Blvd Los Angeles, CA 90004 (323) 467-2777 https://www.drkezian.com