The dental office of Dr Arthur Kezian has been established in the Larchmont Village community for over 53 years. Dr Kezian has been the owner since 1983 and has practiced in the community for nearly 25 years. We are a very small private dental office offering personalized quality dental care in a community family oriented setting. We service a wide variety the entertainment community, business district and neighborhood families. The dental office is conveniently located on the street level with ample street parking adjacent to the building.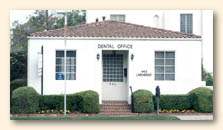 Dr. Arthur A. Kezian DDS
Directions to Office:
We are located at:
443 North Larchmont Blvd.
Los Angeles, California 90004
(323) 467-2777 (Voice)
(323) 467-2771 (Fax)
e-mail: kezian@msn.com
Coming from the North: Proceed South on the Hollywood Freeway 101, exit on Vine Street and turn right heading south. Proceed 1 mile to Melrose turn left and go 4 blocks to Larchmont. Turn right on Larchmont and proceed 2 blocks to 443 Larchmont Blvd.
Coming from the South: Proceed North on the Hollwood Freeway 101, exit on Melrose Blvd and turn right heading west. Proceed 1 mile to Larchmont turn left on Larchmont and procedd 2 blocks to 443 Larchmont Blvd.
Map to the office:
Contact Us:
Thank you for visiting our website! We welcome any questions, comments or suggestions you have regarding our services. Please fill out the form below, and we will get back to you as soon as possible.